WATCH LIVE NOW
NEXT LIVE STREAM:
LIVE IN:
In 2017 the people of Community Bible Church joined up with Wycliffe Bible Translators to help bring the Bible to a large group of indigenous people in Asia. Because these people are in a country that persecutes Christians we gave these people a fictitious name, "The Bakuna People." Over a three-year period CBC raised enough funds to underwrite the translation of three Old Testament books (Genesis, Ruth, and Job), three New Testament books (Mark, Luke, John) as well as the Jesus Film.
What CBC began as a seed of faith, God has continued by bringing other supporters along to translate more books! Right now the books of Titus, Philemon, James, Jude and 1, 2, and 3 John are being prepared. The goal is a complete translation of Old Testament portions and most of the New Testament. These will be put into print and on a Scripture app.
Please pray for the Bakuna translation team: Jennifer, Lee, Ronnie and Ruth. And look below for the latest update from our team.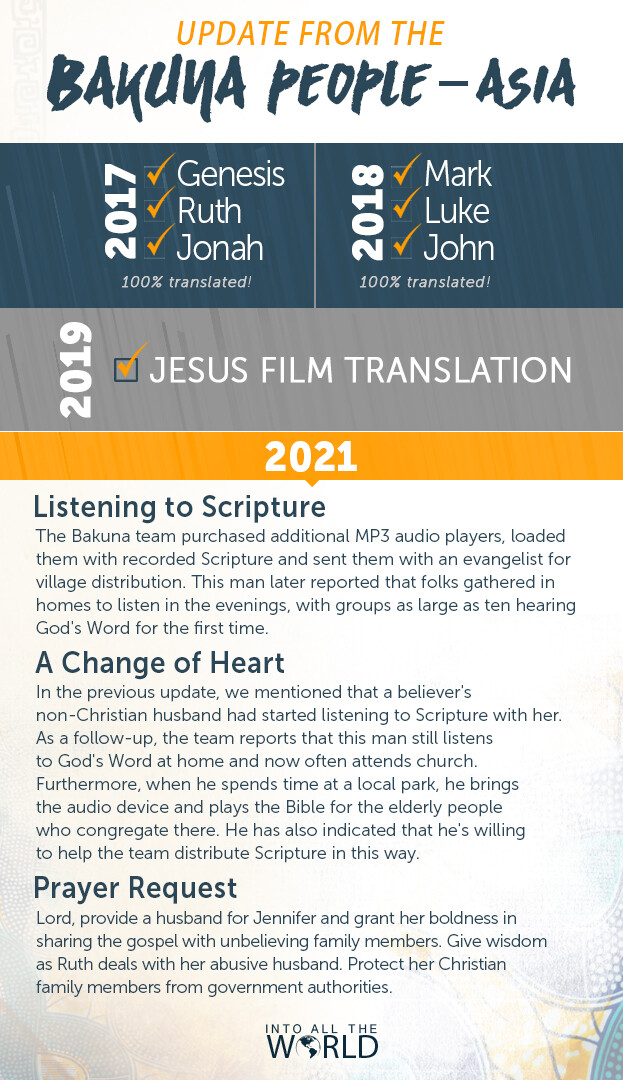 The 4 Steps of Translation
First Draft: translators analyze what a passage says and produce a first translation.
Comprehension Testing: translators share drafted Scripture with community members to test how clearly it communicates.
Consultant Check: a consultant checks the translation with the team to make sure expected accuracy standards are met.
Publish: the team distributes to the community a final version of printed or recorded Scripture.