WATCH LIVE NOW
NEXT LIVE STREAM:
LIVE IN:
397 Bettis Academy Rd., Graniteville, SC 29829
Welcome to Community Bible Church! Not too long ago a small group of believers recognized the need for a God-glorifying church in the Central Savannah River Area of South Carolina. We are the result of their passion and God's blessing. After meeting in different homes for several years, by God's grace, a building was provided us in Graniteville. Join us on Sunday mornings and Wednesday evenings at 397 Bettis Academy Rd. As a non-denominational church, our fellowship consists of people with various interests and backgrounds and who are from numerous geographical locations. For this reason, no matter your current position in life, we hope you will take the opportunity to be our guest during a Sunday morning service. We are still a work in progress and are looking forward to God's continued blessing. If you desire to plug into a young and growing church we invite you!
We are a non-denominational church consisting of people with various and diverse interests and backgrounds, and from numerous geographical locations.
Join us on Sunday mornings for Bible study at 9:30 and Worship at 11 a.m.
TIME LAB VBS GRANITEVILLE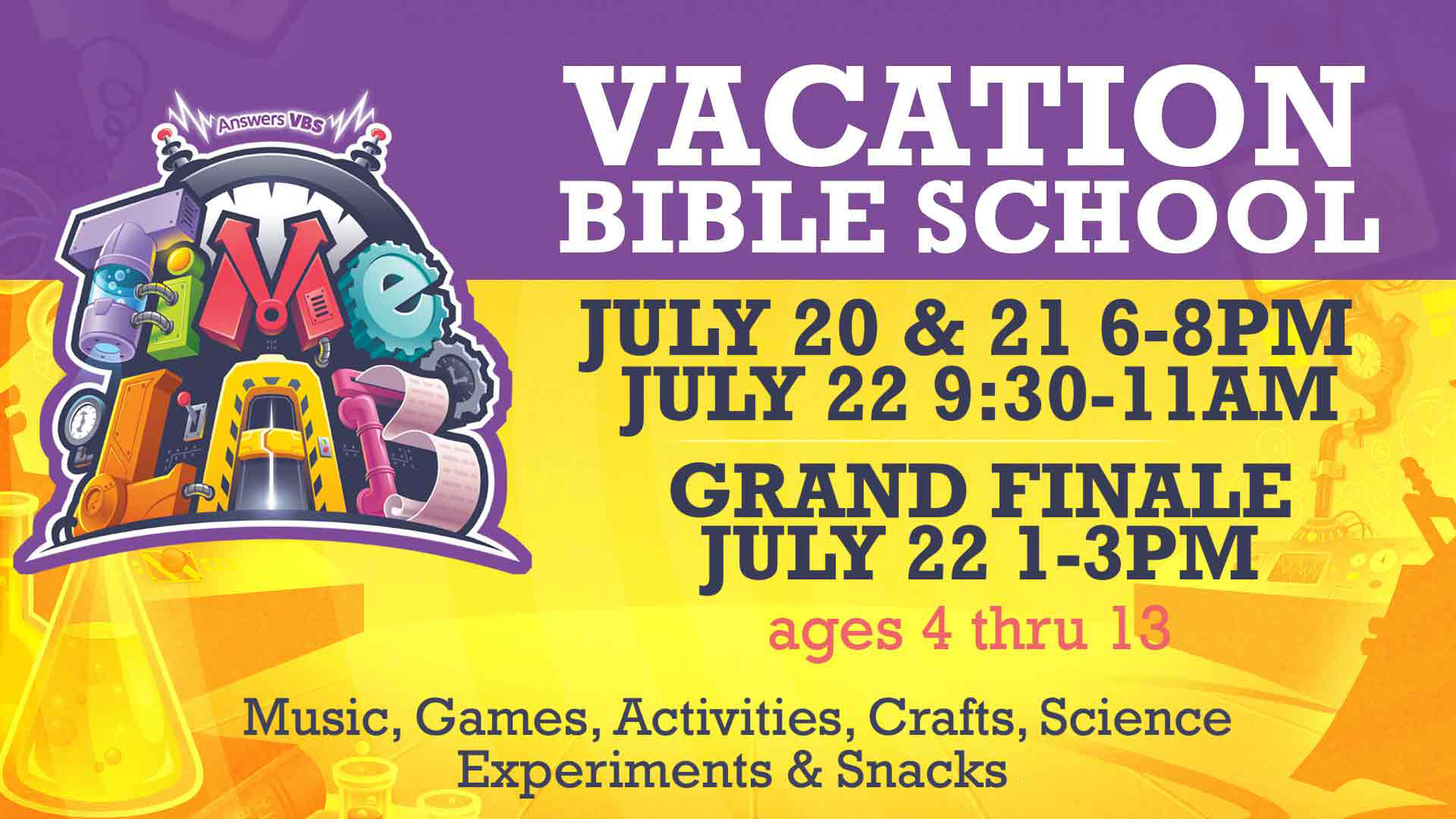 Wouldn't it be amazing to travel back in time and witness epic events in history? Imagine the thrill of meeting great heroes of the faith like Abraham, Moses, or Gideon. Or the fun of experiencing life in ancient cultures like Rome. Or the fascination of watching famous inventors make discoveries that change the world.
Now imagine traveling through time and meeting the most important man ever—a man who was not just a man, but also God. One who turned the world upside-down. One who existed outside of time.
We'll do just that as we embark on Time Lab. Click here to register and for more information!
---
This year Woman's Life @ Night comes to Graniteville as our Senior Pastor's wife, Audrey Broggi, teaches on the importance of God's Word. We'll talk about how to memorize it, how to meditate upon it, how to love it, how to make time for it, and how to live it out through every season, every trial, every sadness, every happiness, every frustration of our lives.
Deepen your love of Christ while making new friendships. Women gather for teaching and discussion on various Monday evenings at 7 p.m.
September 18
October 2, 16 and 30
November 13
January 29
February 19
March 5 - led by Erica Lawson 'A Heart Filled with Joy', 19
April 2, 16 and 30

Serving Graniteville, Aiken, North Augusta
and surrounding communities