WATCH LIVE NOW
NEXT LIVE STREAM:
LIVE IN:
Community Bible Church offers soccer, cheer, and flag football programs with a focus on teaching the game through sportsmanship and healthy competition. Age-appropriate skill development from coaches also builds positive character traits that allows boys and girls to encourage and strengthen themselves and their teammates.
Members of Community Bible Church...do you want to volunteer? Click here!
2023 SOCCER PROGRAM SCHEDULE:
With a focus on:
CHARACTER DEVELOPMENT
DRILLS & GAMEPLAY
SKILLS TRAINING
Begins March of 2022
Program Schedule

January 8 – Registration Open!
February 11 & 18 - Evaluation/Orientation 9 AM - Noon
February 18 - Registration Closes (Noon)
February 18 - Draft (Following the second Evaluation)
February 20 - Place Upward uniform & Equipment orders
February 25 - Fields Operation Workday 9 AM – 11 AM
March 1 - (WEDNESDAY NIGHT) Coaches & Officials Training 5:30PM – 6:15PM
Week of March 6 - Practice Week #1
Week of March 13 - Practice Week #2
March 18 - Game 1
March 25 - Game 2
April 1/ April 8 (Easter Blitz & Eggstravaganza)
April 15 - Game 3
April 22 - Game 4
April 29 - Game 5
May 6 - Game 6
May 13 - Game 7
May 20 – Game 8
Beginning of the tournament / Divisions participating (TBD)
Championship games (TBD)
End of Season Celebration (TBD)
Upward Sports is focused on developing the total athlete mentally, athletically, spiritually, and socially. It introduces kids to sports and instills the necessary skills needed for a well-rounded athletic experience. Check out our Facebook page here.
Upward offers the following:
One hour practice and one hour game per week.
Unique substitution system that ensures every young athlete plays.
Quality game-day uniform and other sport-related gear.
Age-appropriate character and skill development both on and off the field.
Coaches who are focused on your athlete's development.
360 Progression - Experience the impact of the 360 Progression, a unique sports experience that develops young athletes mentally, athletically, spiritually and socially.
Contact Info
CBC Upward Sports
843-525-0089


#PLAYWITHPURPOSE
Drill & Gameplay
4V4 Introduces the game by defining and developing basic skills.
Smaller sized field promotes more game action for each player
Fewer players on the field allow more touches on the ball
No goalkeepers so that all players are engaged on every play
7V7 Advanced Rules -- Refines skills, promoting team play while competing at a high level.
Goalkeepers for each team
Larger goals and field size
End of Season Tournament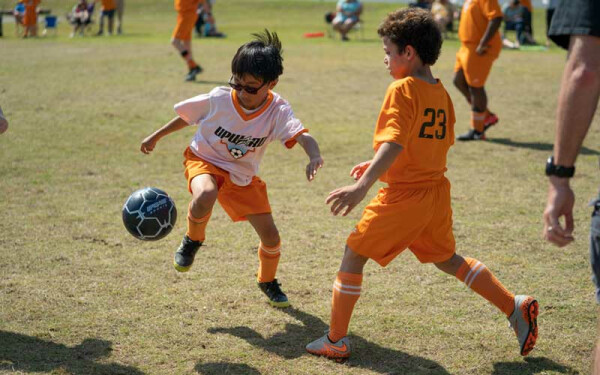 Contact Info
CBC Upward Sports
843-525-0089
---
---